Looking for job opportunities in Jesar? Don't miss out on the upcoming job fair in Jesar. Explore a wide range of job openings and connect with top employers. Register now and take the next step towards your dream career.
Job Fair in Jesar
Employment Recruitment Fair – Jessore
Dated 18/07/2023 (Tuesday)
Time: 11:00 hrs
Place: ITI Jessor, dt. Jesser, G. Bhavnagar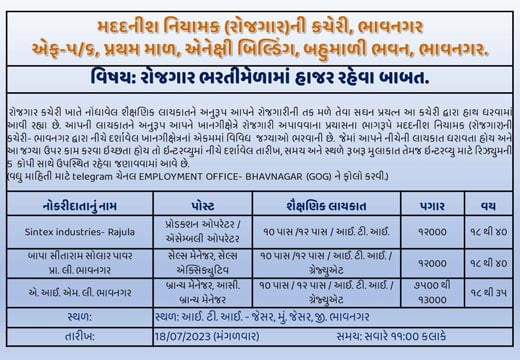 Job Description:
We are currently seeking enthusiastic individuals to join our team for the upcoming Job Fair in Bhavnagar. This is an excellent opportunity for candidates who have recently completed their 10th or 12th standard education and are looking to kickstart their career. No prior work experience is required for these entry-level positions.
Responsibilities:
Attend the Job Fair and actively engage with potential employers.
Showcase your skills, abilities, and eagerness to learn.
Participate in interviews and provide accurate and relevant information about your educational background.
Demonstrate a positive attitude and willingness to work in various industries.
Follow up with employers after the event to express continued interest and inquire about the next steps in the hiring process.
Skills and Qualifications:
Must have completed 10th or 12th standard education.
Strong verbal and written communication skills in the local language.
Ability to work well in a team and adapt to different work environments.
Excellent interpersonal skills and the ability to build rapport with potential employers.
Eagerness to learn and develop new skills.
Basic computer literacy and familiarity with common software applications.
Benefits:
Gain valuable exposure to a wide range of industries and job opportunities.
Network with potential employers and industry professionals.
Develop interview skills and receive feedback from hiring managers.
Obtain guidance and advice on career development and growth opportunities.
Access to various training programs and resources to enhance your employability.
Note: This job description is for the purpose of the Job Fair in Bhavnagar only. The actual job roles and responsibilities will be determined by the employers participating in the fair.
We look forward to meeting you at the Job Fair and assisting you in finding the right career path for your future.