Discover the best job opportunities in Gujarat at Palitana Job Fair. Find suitable job openings that match your skills and qualifications. Make sure to mark your attendance and become a part of this unique job fair opportunity. Register now.
Palitana Job Fair
"Next Taluka Camp organized by Assistant Director (Employment) Office, Bhavnagar."
Dt. 28/07/2023
Time : 11:00 am
Venue: Pathikashram, I. C. d. S Hall, Palitana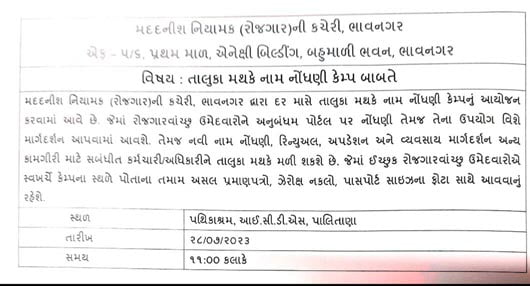 Are you looking for jobs in the area of Palitana? If yes, get ready to attend the Palitana Job Fair! this job fair aims to connect jobseekers with employers from the region.
The job fair is being organized by the District Industries Centre (DIC) and is expected to attract a number of jobseekers looking for positions in various sectors. According to the organizers, the job fair will provide an excellent platform for both jobseekers and employers to network with each other and explore new opportunities.
Jobseekers will be able to find a range of jobs from engineering, IT, finance, healthcare, hospitality, media, retail, and more. It is expected that employers from various sectors such as manufacturing, services, trading, and information technology will be participating in the job fair.
The job fair will also include talks and other activities to help jobseekers understand the various industries in the region and to give them the opportunity to network with employers. Jobseekers will also be able to get advice on improving their resumes, job search tactics, and more.
The Palitana job fair is an excellent opportunity for jobseekers to find employment in the area. It is a great way to explore new job opportunities and to build connections with employers. So, if you are looking for a job in Palitana, make sure to attend this job fair and take advantage of the great opportunities it has to offer.